Donate to ULS!
Your tax deductible donation makes it possible for ULS to continue its fight for equal justice for all Utahns. Utah Legal Services is a Legal Services Corporation (LSC) grantee. We are required to notify donors that our funds may not be used in any manner inconsistent with the Legal Services Corporation Act or Section 504 of Public Law 104-134. The LSC Act and regulations may be viewed at www.lsc.gov
You may donate securely online via PayPal by clicking the "Donate" button below: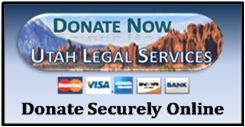 You can also donate by shopping at Amazonsmile using the link below or by going to smile.amazon.com and choosing Utah Legal Services as the charitable organization.

You may also:
Mail a check payable to "Utah Legal Services" to:

Mary Nielsen-Lyman
205 North 400 West
Salt Lake City, Utah 84103; or

Contact Mary at 801-924-3374 or by email.
Last updated on .